Welcome to the All About Singing Fish Wiki!Edit
This wiki page will tell you all about those cool (or annoying) singing fish on plaques. Love him or hate him, Big Mouth Billy Bass is the one that everyone has heard singing his trademark songs: "Take Me To The River", and "Don't Worry, Be Happy"!  There are many different types of singing fish, including bass, trout, catfish, lobsters, crocodiles, sharks, even a dolphin, a whale, and two fish skeletons! Here you'll find a big selection of singing fish pictures, facts, and videos to view. Do you know of any more fish missing from this site? Feel free to add articles about them! You are encouraged to post pictures or videos of the ones you write about, too. THIS PAGE IS STILL UNDER CONSTRUCTION!  MORE ACCESABLE FISH COMMING SOON as of 01/01/2016Edit
Find the singing fish you're looking for somewhere on this list!Original singing fish by Gemmy Industries Corp. Big Mouth Billy Bass - The ORIGINAL Singing FishEdit
Willy (Travis the singing trout replica)
Big Mouth Billy Bass (original singing fish)
Big Mouth Billy Bass Christmas Edition
The New Big Mouth Billy Bass (Small version)
Big Mouth Billy Bass Superstar
World Record Billy Bass (The Huge One)
Cool Catfish
Cool Catfish (Rapping version)
Travis The Singing Trout Christmas Edition
Rocky The Singing Lobster
Lucky The Singing Lobster
Frankie the Fish (From McDonald's comercial)
Mini Recordable Billy Bass
Rare Billy Bass Look-alikes:Edit
Al's Dancing Fish
Al's Dancing Fish (rare swordfish version)
Big Mouth Billie Bass (Sings Michael Jackson's "Beat it", and Queen's "We will rock you")
Singing Honey Bass (Sings Michael Jackson's "Beat it", and Queen's "We will rock you")

Chinese new year singing fish (extremely rare orange Chinese version.)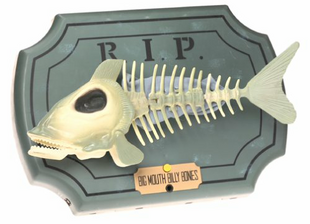 Rock King Tommy/Merry Christmas bass
1999 Market Trade "singing fish"
Billy Mouth (sings wild thing and Please release me)
The Rock Fish (sings proud mary and stand by me)
Bubba fish (replica of big mouth billy bass)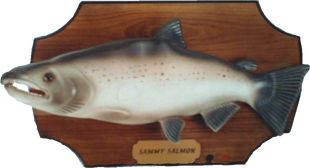 1999 jiada "singing fish"
Prize Catch (Marty The Singing Fish)
Benny Barsch
Okkaido Collection Singing and moving fsh (sings take me to the river and don't worry be happy)
Singender Fisch (sings take me to the river)
Ad blocker interference detected!
Wikia is a free-to-use site that makes money from advertising. We have a modified experience for viewers using ad blockers

Wikia is not accessible if you've made further modifications. Remove the custom ad blocker rule(s) and the page will load as expected.