The Zombie Fish is a new Halloween prop made for 2015.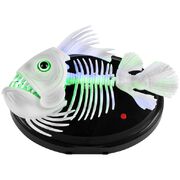 Description
Edit
The Zombie Fish is an undead fish on a black plaque, with a red button and motion sensor. When activated, 4 lights light up, a green and blue in the body, a green in the eye, and a green in the mouth, while Zombie Fish flaps his tail and moves his mouth as he sings "I Will Survive".
-Zombie Fish sort of resembles a piranha.
-He is one of the only 2 fish made by Gemmy that light up, the other being the New Big Mouth Billy Bones.
-He is being sold at Target, but some people got him early off Amazon.
-He is the only singing fish by Gemmy that doesn't move his head.